Bookstore
NOTE: Be aware that this site will be updated as we receive information from faculty and shipments from publishers. Because textbook information can change at any time, Cottey College and Cottey College Bookstore take NO responsibility for information used from this site for the purchase of textbooks from any other source.

Textbooks
These five textbooks may be rented at the Cottey College Bookstore for Fall 2015.
For HIS 111 A & B
Hewitt; Larson/Exploring American Histories   9780312409982
Rental Price $30.00
For CSC 101 A
Vermatt/Microsoft Office 2013 Introductory   9781285166025
Rental Price $45.00
For MAT 103 All Sections
Kaufmann/College Algebra   9781111990367
Rental Price $40.00
For BUS 211 & BUS 212
Needles/Financial & Managerial Accounting 9781133626992
Rental Price $60.00
For PSY 101 A
Myers/Psychology in Everyday Life 9781429263948
Rental Price $35.00
To order your Cottey memorabilia, you may either print off the order form and mail or fax it to the Bookstore, or you may phone the Bookstore.
Download Bookstore Order Form
To mail your order, send the completed form with payment to Cottey College Bookstore, 1000 W. Austin, Nevada, MO 64772. Phone orders should call 417-667-8181, ext. 2154, during business hours: 9:30 a.m. to noon and 1-4:30 p.m. Central time, Monday-Friday. Credit card fax orders may be sent to 417-667-8103. Questions regarding Cottey merchandise should be directed to Lois Witte, Bookstore Manager, at the phone number listed above.
Baby Items
Cottey has something for everyone, even the baby in the family. Choose from a hooded sweatshirt ($19.95), T-Shirt ($12.50), a stylish rattle ($2.50).
Item MS20 (baby hoodie) MS22 (rattle)
Cottey Fun Stuff!
Have fun with these unique Cottey items. Clockwise from top left: Note cards with five views of campus ($2.50), piggy bank ($7.95), ornament ($12.50), luggage markers ($2.50), pen ($1.50), postcards (50 cents) and pencils ($.35).
Item MS40 (notecards) MS41 (piggy bank) MS44 (luggage tags) MS45 (pencils)


---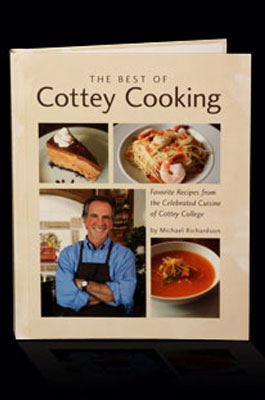 For years students and guests have raved about the food at Cottey College. Now you can prepare your Cottey favorites at home with Chef Michael's cookbook The Best of Cottey Cooking. $24.95 plus shipping. Or you can order online at TheChefsLife.com.
The Best of Cottey Cooking is Chef Michael's collection of more than 200 of the most popular recipes served at Cottey, adapted for use in your home kitchen.